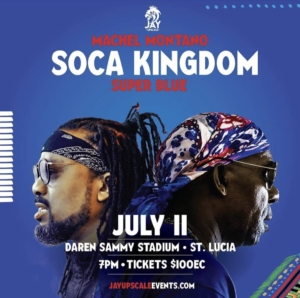 This event was touted to be an unforgettable show and I take it to mean that it would be really good, but according to the patrons, they basically want their money back. According to a Press Release via St. Lucia Newsonline (2018), the show promoter Jermaine Magras said that the show was a realization of a dream come true, one that not only exposes the best of regional talent to Saint Lucian audiences but that also provides a platform to showcasing the best of Saint Lucian talent to the world.  How that was accomplished from all I am reading, I don't know, but I guess we may hear about it later.
So apparently the gates opened for this show at 7 pm and Machel didn't make an appearance not until 1:30 am, many patrons left before the show was over.  People also complained about the bar situation and the logistics of the setup.  Apparently to get drinks, you had to buy chits, then go to another bar to redeem the chits for the drinks and these 2 bars were far apart from each other and of course they were crowded (now crowded bars is not a first for fetes I have attended in St. Lucia.  Promotors yall know people like to drink, have more bars nuh, but I digress). One friend told me she had to wait for 30 minutes for a drink…come on man, that is/was not good enough.
Some of the reviews that I have been getting and seeing are listed below: 
"That #Machel show was a rip off. #Jayupscale is a con artist. Worst Machel show ever. Hours standing around listening to Barry talk shit, they butcher the Dennery Segment (first time Dennery Segment come on and people standing still). That was pure noise. Poor sound system and lack of organization. That was a mangé cochon. #Machel did not deliver. The performance was mediocre to say the least. Further with the stage set up so far many Patrons could not see the show. At least a few screens could have been set up. I want my money back. The management of Red Unlimited need to Show them how its done. Irvin Springer so far #CMR was the best show I have attended for the season. All the others were crap. I have tickets for sale, afraid of being exploited further for the season."
"That was total disrespect to patrons and professional service providers. EVERYTHING was a mess. It's easier to tell you what was good about the show than what was bad.
What was good – Motto, TJ and Ricky T represented their flag and countryman well during their 7 – 15 minute piece each."
 "Epic fail!!!!"
"Soca boredom.. Never again!"
"Just rising from the shit show. I too am quite disappointed. I guess I was yearning for the days of machel gone when 2 hours later he still dropping hits and your foot hurting but still you have to jump up. This was not the case … it was a real mess."
"Worst show ever. If I wanted to hear dj music half the night and a dj talking shate I would would go to Verve"
Lemme not list all the bad, some good I saw:
"The ladies were fineeeeee"
"The local artist performed very well"
"Epic"
"Good vibe"
"Everywhere I go, I have to enjoy myself oui"
So there you have it folks, it is high time we stand as one and start taking dem promoters to task, but just remember de show was to be unforgettable eh…unforgettable can be good and bad….what is your take on this unforgettable show!
PSA: Now let me make my little disclaimer before people come all in dey feelings….the above comments are from patrons, you know people dat pay dey money and not mine and from de little clips I saw I was real wining in meh bed wishing to be there and not knowing that all dis was going on, perception eh, cause for the majority of people that I hearing and saying that the show was wack, there are still some that were saying that the show was bess….it is all about who is feteing and perception eh! 
Ah still singing meh "Soca Kingdom, soca kingdom, who ready, we now start" Ready to charge ahead…get ready to mash down…time to show me your waist, time to get out of line….woyyyyyy…wine and fling it up, wine and wine and fling it up"
xoxoxo
Meli Mel