Hey y'all.
How have you been coping with the new kind of normal? Now that I kinda have more time on my hands due to not being stuck in 1 hour or so of traffic and that is just one way going into an office I have added self-care routines into my schedule.  My days seems to be a jumble mess with me not knowing what day it is and always have to ask or look at the calendar.
Lately we have been hearing a-lot about self-care.  But what exactly is self care?  Self-care simply means to take care of yourself in a healthy way.  It starts with knowing when to step back and recharge.  It can be a simple gesture like eating a meal on time or incorporating exercises to your daily routine or it can be something bigger (it all depends on the individual).
The point of self-care is to make you feel good, so apparently wine is not part of self-care (inserts roll-eyes emoji, j/k). Self-care is taking care of yourself internally which can have a long-term benefit for the body and mind.  Self-care is not even time-consuming nor is it pricey.
Here are some examples of self-care:
Practice meditation (10 minutes is all you need). I use the Calm app for my meditation.
Read a book  (I am reading Becoming by Michelle Obama)
Take a walk (I haven't started that one yet)
Listen to your favorite music (Everyday all day)
Take a bubbly bath with some nice smelling candles and add some relaxing music to the vibe. (Not really a bubbly bath person, but I take long hot showers.
Do some adult coloring or puzzles.
Do some singing and dancing. (I'm not no Rihanna, but I can belt out a few likkle words)
Unplug (This is a MUST)
De-clutter (I love throwing ish out)
Get-up early (you will be amazed at how this works)
As part of my self-care routine, I also do facial treatments and hot long long showers.  These are my go-to products for showers lately and for my face: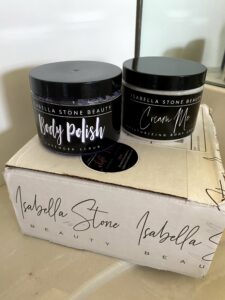 The Body Polish I swear is like no other scrub that I have used, for one it has lavender which is like one of my favorite scents and a moisturizing feeling after it is washed off the body.  I was a strictly Bath and Body Works aromatherapy kind of girl but this Cream Me moisturizing body cream have me changing my mind because of the different natural ingredients and the feel of it after.  It doesn't feel dry on your skin hours later, it is like it seeps into your skin and keeps you moisturized for the whole day. These products btw are all handmade, female entrepreneur, black entrepreneur and Made in America…what more can you ask for.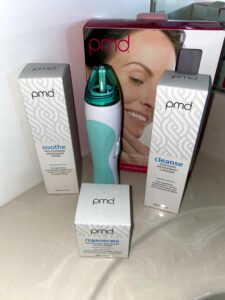 I have a love hate relationship with my skin.  I also have melasma and shouldn't be in the sun for too long without sunscreen or a big hat…I'm an island girl with locs, so finding a wide brim hat that actually fits so that I can be in the sun is not easy.  I recently started using this microderm tool along with the cleanser, toner and moisturizer to the mix of getting my face clear.  It is not going to clear the dark colors but it will make my face a little clearer supposedly.  The jury is still out on that, so we will see how it turns out with more use.
What are your self-care routines, share in the comments 🙂
xoxoxo
Meli Mel