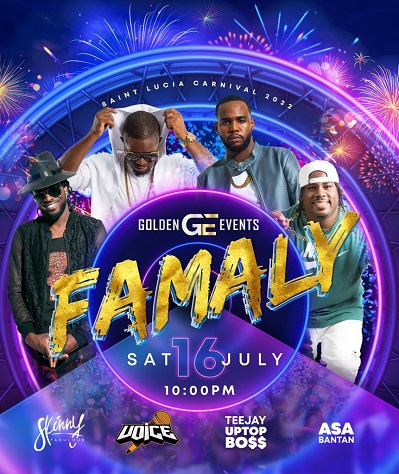 I eh reach Famalay yet but my sources tell me the gates still wasn't open at 10:46. Mind you IG advertising and flyers said it starts at 8, TicketPal said it starting at 10. I hear gates opened at 11:30; I just reach an hour later.
Parking worse tonight than it was last night.
Walking in a fella tell me I doh want people in my back doh go there.
Wow they really have people outside.
Seems by time I get inside the fete go done.
My cousin just reach inside when I was leaving remedy she said she was Marisule going up. I done get a vehicle, go home, bathe, put clothes, pick up my sister and drive all up there and she JUST getting inside.
Idk what's going on people so excited to see Teejay Uptop Boss or Golden Events just disorganized but that not good. That line have no movement it looking so chaotic. This is a hot focking mess. I follow my Lucian people and jump the line not me that waiting an hour to get in. The foreigners vex, everybody just pushing forward. Who saying doh push, who cussing people.
Boom I get in…woyyy look at people. The bar looking fock op, yeah not even water I want the way that bar is. Somebody tell me half an hour they on the line awa.
Remedy was full of old people, Famalay full of children and vieux negs wahh.
Them men really like bringing women on the stage lol without them their performance honestly doesn't make sense. I must say these girls could've actually danced though.
Cooyah, move there.
Now here comes the one hit wonder, well I stand corrected he had sing The Viking Song.
The music between sets are nice instead of an mc talking how much in our head but they really taking long for the next artist. Okay I lie look the mc's there running their mouth.
This fete have so much people I hot just standing here.
The kids more lit than us I see one pass with how many bottles there. Lawd the children must learn rum not juice. They mash up.
Rain again but we're prepared tonight cause I eh standing under no tent with smelling people again okay it's almost 2…where's Teejay lemme go at my home. I tired already.
Yeah vieux neg session.
🥱🥱🥱🥱🥱🥱
Everybody clearly only here for Teeejay, they barely moving for the other artist.
Aaaa Keisha your mudda at the door. Poorjab the girl.
Kevin Crown get the crowd hype with the dancehall.
Finallyyyy Teejay! Bubble yuh body fi di uptop boss 
Dhirv after Teejay…hmmmm his stupid music hype the crowd though.
Asa Bantan coming on now but I ready to go at my home ih.
Wow the ladies restroom really nyackkkkkk.
I hate leaving a fete when it ends cause look traffic ih.
5:30 am I finally reach at my home. All in all this fete was a great disaster honestly, the line to get in, the bar, I didn't even check the food. Wayyyyy too many people.
This was the last fete and review of the season people. Thanks for reading hope y'all enjoyed ✌🏽
xoxo
_genuinelywry