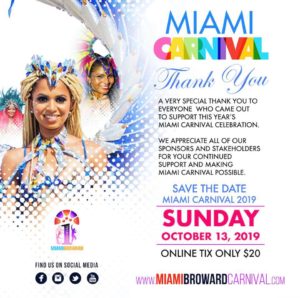 Miami Carnival is done and bands are going back to the drawing boards, some to revel in their success and some to have serious thoughts on re-grouping or looking to see what went wrong and how they can fix it.  Revelers are still upset at some bands (Ramajay Mas for instance) for not coming through as expected.  Apparently maybe through miscommunication or whatever, some revelers did not get their costumes and are being very vocal about it, they have even forced Ramajay Mas to shut down their comments section on their IG posts.  Carnival is always a bacchanal eh!
Miami Carnival results were:
Ramajay Mas (265 points)
Revel Nation (263 points)
One Island (263 points)
Bajan Fuh Eva
Mascots International
Party Room Squad
D Junction
Euphoria Mas
Generation X
Major Players
Dingolay Mas and Freaks Mas were disqualified because they did not cross the stage at their allocated placement.  But why they didn't tie Revel Nation and One Island and say Bajan Fuh Eva 3rd uh…(oh dais not how it goes, *shrugs)
So with that news of Ramajay placing first, a few of their disgruntled revelers took to social media to air their qualms about that…(names have been blacked out but I eh really feel they care, lol)
[envira-gallery id="4554″]
I really hope Ramajay makes good with their revelers, because they had some really nice costumes both here and in New York and I spoke about them coming to slay.  So whatever transpired in their camp, I hope they fix it and have happy customers next year.   Another bacchanal I got was with a section (Moca International) out of Bajan Fuh Eva camp.  Apparently the reveler registered and asked for a wire bra..her boobs were big so when she did get the bra is was a no go; first off, yall bands need to put a restriction on who should wear wire bras and from the get go they should have told home girl that she should have used a regular bra, anywho, she gave them a regular bra and carnival Saturday they are telling her they don't have enough material to cover the bra she gave them….._0_…what nonsense is this uh….so you didn't see when de young lady give you the bra that you didn't have enough material, now said young lady is frantic at the other option they providing and now looking to go find an orange bra for them to decorate….(yall see why I tell yall I can't play mas in Miami, but then again a glue gun never hurt me and I would be doing meh own costume with their supplies).  Again carnival is bacchanal!
Miami Carnival still have a little logistic to work on doh, de carnival was nice, I really enjoyed being out there but nobody knew where media should have gone and we were armed with our media passes being told go there, no not there, so we just made our way to get to where we wanted to go.
Big up to the St. Lucian artists that put themselves out there.  De Dennery segment was blasting at every turn and I had alot of pride seeing people Bending Dong for de hmmm, or Splitting in de middle on de dirty ground 🙂
The pics below are just a few of what I took, more to follow by the professional photographer (hubby)
[envira-gallery id="4561″]
Stay tuned for more pics.
xoxo
Meli Mel